ĐUKANOVIĆ: Prihvaćen predlog da se na putu ka EU i dalje vrednuje napredak svake zemlje pojedinačno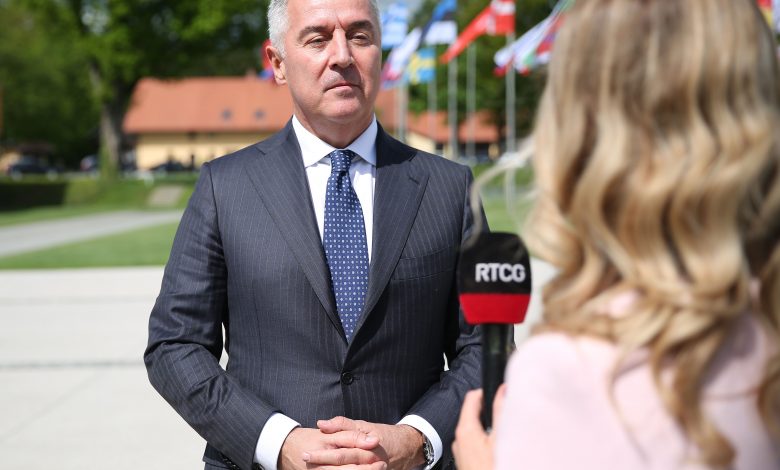 Perdsjednik Crne Gore Milo Đukanović je danas prisustvovao Samitu Brdo Brioni na kome je Prihvaćen predlog koji podrazumijeva da se u procesu evropske integracije i dalje vrednuje napredak svake od zemalja pojedinačno.
Tema je bila zanimljiva pa je zato i samit potrajao duže. Ovo je inače 10 jubilarni samit Brdo-Brioni. Tokom tih 10 godina taj samit se zaista afirmisao kao mjesto na kojem se kvalitetno razgovara o regionalnoj saradnji i o evropskoj perspektivi regiona Zapadnog Balkana (ZB), rekao je Đukanović.
Prema njegovim riječima imajući u vidu da "samo svi nezadovoljni tempom politike proširenja na ZB, mislim da je samit došao u pravo vrijeme i da je dobra prilika da se najprije pripremi Slovenija, kao domaćin današnjeg samita, za početak predsjedavanja EU, što će uslijediti u drugom polugođu ove godine, a istovremeno samit je došao uoči sastanka koji ćemo sjutra kao lideri ZB imati s Visokim predstavnikom EU za vanjsku i bezbjednosnu politiku gospodina Borelja."
On je najprije upoznao sagovornike sa procesima koji se događaju u Crnoj Gori, sa naporima koji su ulažeu da se riješi posl edice trajuće pandemije, a istovremeno kako teče proces kohabitacije u Crnoj Gori.
"Ipak, poenta tokom čitavog razgovora je bila na temi evropeizacije ZB. Ukazao sam da je, nažalost, neaktivnošću ZB taj prostor otvoren za upliv trećih zemalja i njihovih politika koje su nažalost najčešće u nesaglasju sa politikom EU i sa evropskim sistemom vrijednosti. Mislim da je i ta diskusija podstakla da na kraju usvojimo zaključke koje su zaista vrlo angažovani prema EU, koji pokušavaju da animiraju EU na ofanzivniju politiku proširenja", dodao je on.
Predložio je i da usvoje jedan zaključak koji bi bio oštro protivljenje idejama oko promjene granica na ZB, nažalost, nije postignut konsenzus oko te ideje, tako da su zaključci ostali bez tog dijela, ali prihvaćen je zaključak koji je takođe predložio, "da potenciramo da to naše zalaganje za proširenje ili za prijem zemalja ZB u EU i dalje počiva striktno na principu regate uvažavajući ono što je individualni napredak svake od zemalja", rekao je Đukanović i dodao: 
"Bilo je i drugih ideja da se razgovara o ZB kao cjelini. Kao što znamo nijesmo svi u istom stanju, Crna Gora već devetu godinu vodi proces pregovora sa EU, ostvarila je značajan napredak, značajniji od svih drugih zemalja. Naravno, imamo svijest o tome da bi bilo jako važno da čitav region u bliskoj budućnosti postane dio EU. To bi bila najpouzdanija garancija stabilnosti, ekonomskog i demokratskog prosperiteta, ali ne želimo da se odreknemo godina u kojima smo posvećeno radili na reformama i koje su nas dovele do članstva u NATO, i do današnje pozicije u kojoj je Crna Gora jedina zemlja aspirant koja je zatvorila sva pregovaračka poglavlja.
Zadovoljan sam zaključcima i vjerujem da mogu predstavljati dobar prilog u ukupnoj politici prema EU, prema njenim institucijama, prema ključnim zemljama članicama da napuste ovu dugotrajuću poziciju rezervisanosti prema dobrom tempu proširenja, i nadam se da mogu biti podsticajni da EU preuzme svoju odgovornu ulogu prema našem regionu i da na taj način zatvorimo mogućnost za penetraciju interesa drugih zemalja, koja nažalost usporava reforme koje moramo da realizujemo i usporava našu evropsku perspektivu", zaključuje on.