VOP ISTRAŽUJE: Kako su povezana samoubistva dvoje mladih na Đurđevića Tari
U razmaku od 20 dana, djevojka M.G. (20) i tinejdžer V.K. (13) skočili su, gotovo na istovjetan način, pred brojnim zaprepašćenim turistima, sa istog mjesta na mostu na Đurđevića Tari u provaliju dubine 180 metara. 
Dvadesetogodišnja M. G. iz Pljevalja je 27. jula, oko 20 časova, skočila u sigurnu smrt nakon što je na mostu ostavila ranac u kojem su bile njene lične stvari. Dan kasnije, njeno tijelo pronađeno je na obali reke Tare, u blizini Manastira Svetog Arhangela Mihaila.
Tačno 20 dana kasnije, 16. avgusta oko 16,30 sa gotovo istog mjesta, naočigled pedesetak turista, u smrt je skočio i trinaestogodišnji dječak V.K. iz okoline Pljevalja. 
Sat prije tragedije majka dječaka prijavila je njegov nestanak Centru bezbjednosti Pljevlja.
Da su se dječak i djevojka poznavali, makar preko društvnih mreža, govore njihovi profili i objave. 
 Na svom profilu na društvenoj mreži TikTok djevojka je imala samo jednu objavu – snimak sa drugaricom. Ispod tog klipa dečak je, nakon njenog samoubistva, ostavio poruku: "uskoro isti most ista patika isto sve"…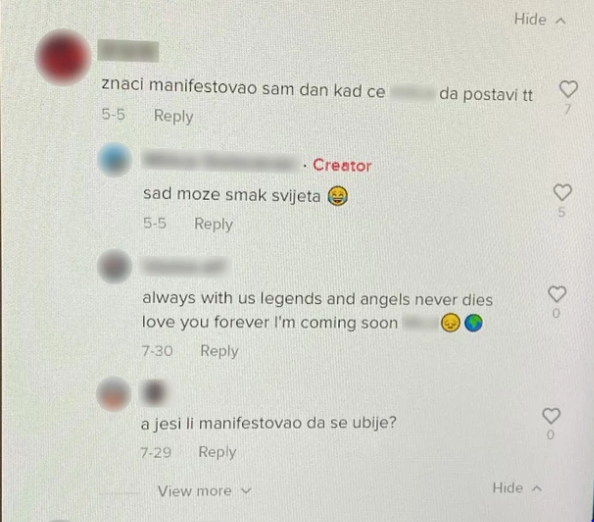 Nakon samoubistva djevojke, na profilu koji je potpisan drugim imenom, ali u nastavku se vidi pravo ime preminulog dječaka, na dan njegovog samoubistva objavljen je video, tematski isto urađen kao i poslednji klip devojke U njemu su objavljene njene fotografije, a istog dana i na profilnu slikuje postavljena fotografija preminule djevojke.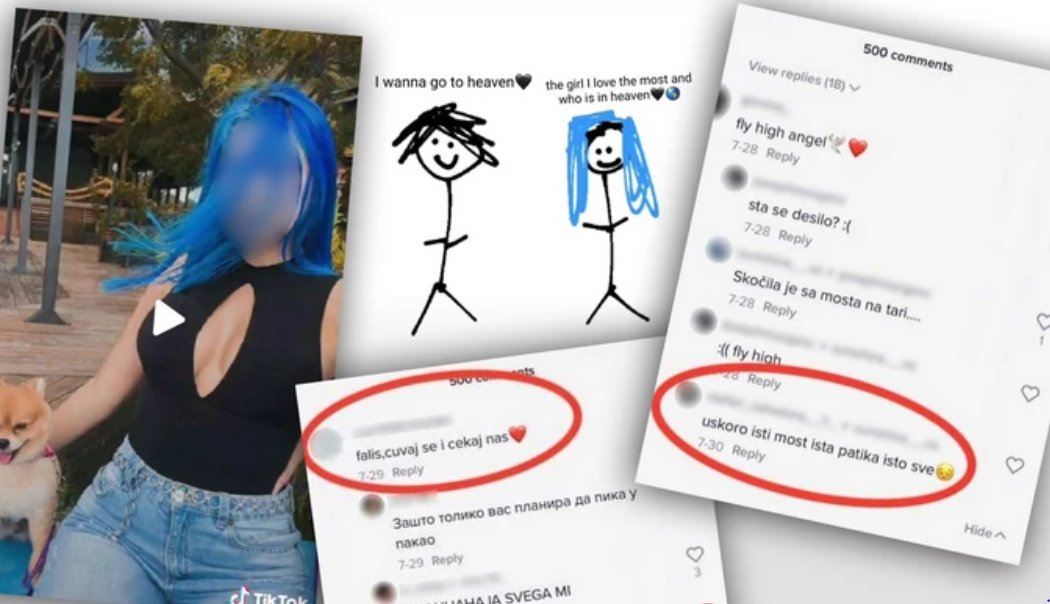 "Želim da idem u Raj" napisano je iznad glave čiča-gliše koji predstavlja dječaka. Pored njega u klipu stoji nacrtana djevojčica indigo plave kose, kakvu je imala i M. G. uz opis "Djevojka koju volim a koja je u Raju".
Nakon ove slike na snimku se uz pjesmu smjenjuju slike djevojke M. G. a potom i slike praćene tekstom:  "Moja glava je veoma mračno mjesto" i "Gdje je moj srećan kraj?"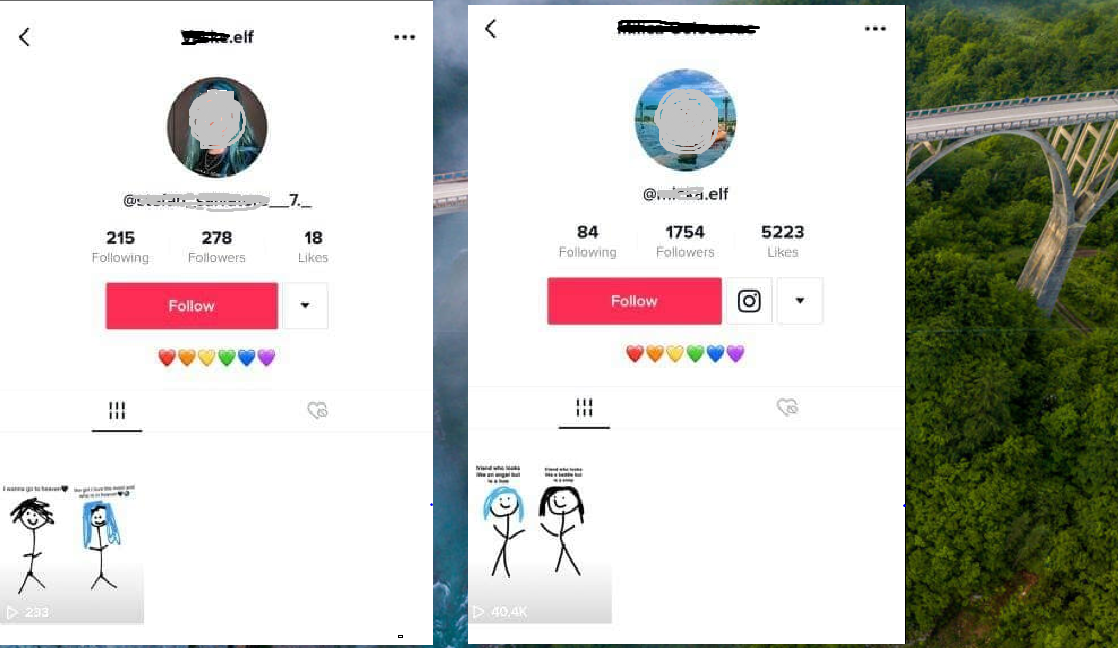 Sve ovo zapazili su i korisnici društvenih mreža koji od prekjuče ukazuju na očigledne veze među profilima dvoje mladih, ali i na misteriozne znake koje, možda, ukazuju na umiješanost "nekog trećeg". 
Sagovornik VOP-a koji proučava sekte i njihovu povezanost sa različitim simbolima, kaže da ima osnova za ovakve pretpostavke, te da bi društvena zajednica, a prvenstveno policija morala istažiti tu mogućnost. 
Misterija broja 538, poruke "SAFE PLACE" i simbola ELF 
Na Instagram profilima M. G. i V. K. stoji identična poruka "Safe place" i šest srca dugine boje, napisano istim fontom u kockicama, redosljed srca i boja je identičan.
Takođe, njih dvoje pratili su identičan broj drugih profila – 538. Nakon što su korisnici društvenih mreža ovo uočili, navodno je neko, ko ima pristup njihovim profilima, ove brojeve promijenio.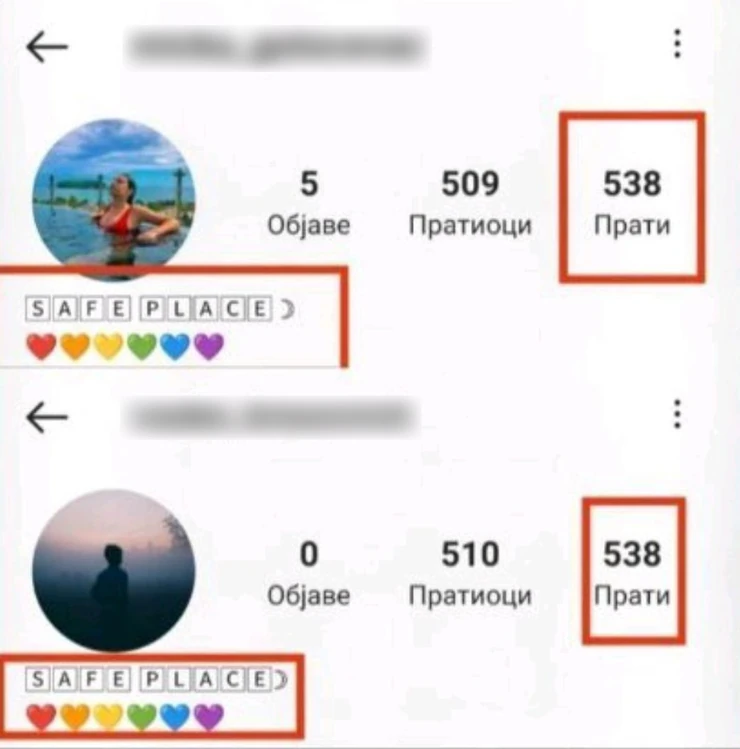 Osim ovoga, kaže sagovornik VOP-a koji želi da ostane anoniman, da su oboje imali oznaku ELF u opisu profila.
"Elf je inače mitsko biće iz germanske mitologije. Elf se opisuju kao oličenje prirodnih sila, mali i nestašni duhovi koji kao dobra i lijepa bića žive na nebesima, ili pak, kao opaka i ružna koja kao noćni duhovi borave pod zemljom", objašnjava naš sagovornik. On kaže da, međutim, nije uspio pronaći konkretnu vezu ovog mitskog bića sa nekom sektom, ali da je to moguće, jer broj sekti raste, pojavljuju se nove i veoma su opasne. 
Na internetu su se pojavila različita tumačenja broja 538 (kao anđeoskog broja) i poruke "Safe place" koje je, u savremeno doba, naziv organizacije koja pruža podršku mladima do 21 godinu, ali i organizacije koja se bavi pravima LGBTQ osoba.
Međutim, naš sagovonik kaže da smatra da su ovi simboli vezani za mnogo starija značenja. 
"Sigurno utočiste (Safe Place) pominje se u kontekstu Mojsija, kada je uspio pobijediti Faraona, nije mogao pobijediti karakter svoga naroda koji je zapravo bio nevjernički. I ostalo mu je, prema tom mišljenu, samo da se vrati Gospodu.
Broj 538 je znak koji se koristi u nekim sektama kao simbol oslobađanja od svake vrste straha, pa i straha od smrti, potpunog vladanja samim sobom", objašnjava sagovornik VOP-a. 
Naš sagovornik, takođe, upozorava da je samoubistvo, kako kaže, najuzvišeniji čin u životu u nekoj sekti. 
"Nažalost, mladi koji dospiju u kandže neke sekte, često tako završavaju", kaže.  
On dodaje i da u sektama često postoji simbolička veza, i upozorava da je, prema dostupnim podacima, djevojka koja se ubila imala 20 godinu, a da se dječak koji je imao 13 godina ubio tačno 20 dana nakon njene smrti. 
"Na osnovu svega što se pojavilo u javnosti, osnovano se može sumnjati da se radi o nekoj mračnoj organizaciji. Ne mislim da je riječ o emotivnoj vezi ovo dvoje mladih, ipak je razlika u godinama, naročito u ovom periodu života, velika", kaže naš sagovornik. 
"Policija bi trebala da pregleda sve profile na mrežama koji su povezani sa ova dva slučaja, a pretpostavljam da oni to već i rade. Vlasnika svakog profila na društvenim mrežama koji ima simbole kao ovo dvoje nesrećne djece treba ispitati, provjeriti, upozoriti roditelje, na bilo koji način zaštititi", kaže sagovornik VOP-a. 
V.R.-A.D.